Why is people management important for supply chain professionals?
When we discuss supply chains, what's the first thing that springs to mind? Logistics? Technology? Data?
You're not wrong. Yet co-ordinating the logistics, operating the technology, interpreting the data – and at the heart of the supply chain – you'll find people.
Understanding people; recognising their value within your organisation and knowing how to manage them is what turns a good manager into a great one. This means if you plan to rise through the supply chain ranks, technical expertise alone won't cut it. You'll need the interpersonal skills, leadership qualities, and people management strategies to manage workforces, collaborate across functions, and communicate effectively with a variety of stakeholders.
So let's break down the benefits.
Recruiting and retaining the right candidates
Between November 2021 and January 2022, supply chain vacancies in the UK reached an all-time high, with 1,298,400 openings and 37% of large businesses struggling to hire (Institute for Government).
For budding supply chain professionals, this is good news. You're in an enviable position, with the power to pick and choose, plus strong grounds for negotiation.
But for organisations it's a different story. Competition is fierce, and hiring managers need to act fast and provide an enticing offer to secure the top talent. That doesn't mean lowering standards or blowing budgets, though. It means having a robust workforce strategy: identifying areas for improvement in the status quo and providing practical, cost-effective solutions to meet current and future demands.
Sound familiar? Swap processes, machinery, and logistics for people, teams, and skillsets and start procuring and developing the best talent at the best price for maximum payoff.
Learn key terminology in the supply chain industry. We've put together a list of common industry terms to help you throughout your studies and professional life:
The steps might be second nature to function-focused supply chain managers, but strategic workforce planning requires detailed insight that comes only from a firm grasp of managing people. Working collectively with HR will help you achieve a map of how you want your team to look and ensure job descriptions fit the evolving roles.
Knowing who, when, and where to hire, in order to meet company objectives is just the beginning. Working with HR and Finance, you'll need to provide longer-term benefits (such as adequate compensation and perks, support, training, and advancement opportunities) to motivate and retain employees. After all, a happy workforce is a productive workforce.
Filling the skills gap
Technology is revolutionising the supply chain, streamlining operations, and providing unparalleled insight.
But according to a report by PwC, only 23% of organisations feel their supply chain workforces have the digital skills needed to meet future objectives.
And whilst a lack of digital expertise may be holding businesses back, distinctly human traits such as innovation, creativity, and competitive vision also need continual improvement.
Effective people managers know that nurturing talent with training and professional development opportunities – whether that's on the job or in the classroom – impacts the individual, the team, and the overall success of the business.
From in-house training sessions to online, part-time postgraduate programmes; it's possible to level up without needing time off from work. Designed to fit seamlessly alongside busy schedules, these courses have immediate impact as skills and theories can be applied as you learn.
Training isn't reserved for new recruits and junior staff though – even those at the top of their game can benefit. In this rapidly changing business climate, there's always more to learn, new insight to gain, and skills to sharpen.
For current and aspiring managers, higher-level studies such as a Masters in Supply Chain Management will give you the in-depth theoretical foundations, evidence-backed strategic frameworks, plus both the hard technical and soft leadership skills to set you apart. Look for a course that explores across functions and wider contexts for the most valuable insight.
Building relationships
Organisations are more complex than ever, and the boundaries between roles, steps in the chain, and even functions are becoming increasingly blurred as a more collaborative approach takes hold. We can learn a lot when we look outside our own environment, developing essential inter- and intra- organisational relationships and reaping mutual rewards.
Human Resource Managers have the power to shape an environment that encourages teamwork and collaboration. HR can teach supply chain managers how to promote and participate in collaborative communication to increase innovation and productivity.
So what does this look like in supply chains? It could include joint decision-making, shared real-time information (such as order and shipping details), shared resources, goals and incentives, best practices, and deeper insight, for example forecasts and market trends. Activities like these make it easier to get ready for, react to, and recover from disruptions. They enhance supply chain visibility, flexibility, and speed, ultimately improving resilience, cost management, and sustainability.
Open communication can improve your own leadership practice too. Asking questions, as well as giving and receiving constructive feedback from your team and colleagues will help you evaluate your current performance and identify areas for improvement.
Spreading the message
Often seen as both the bridge or the barrier to development, people – and their willingness to embrace change – are the key to moving a business forward. To get things done, you need your team to back you.
In the best performing organisations, success stems from a clear common goal, promoted by a culture of breaking barriers and sparking innovation. To them, change is exciting opportunity, not a disruption.
As a manager, it's down to you to make sure your team understands the company values and initiatives and feels motivated to achieve them. If you've already hired the right staff and build great relationships, you're halfway there. You'll need to be able to communicate the vision for the future clearly and wholeheartedly, inspiring, persuading, and leading by example where you can – people management 101. It might sound challenging, but these are skills that can be taught and confidence that can be gained.
UCLan Online's MSc in Supply Chain Management takes a uniquely cross-functional approach to supply chains. If you're keen to become a successful supply chain manager with impressive people management skills, visit the course page to find out more: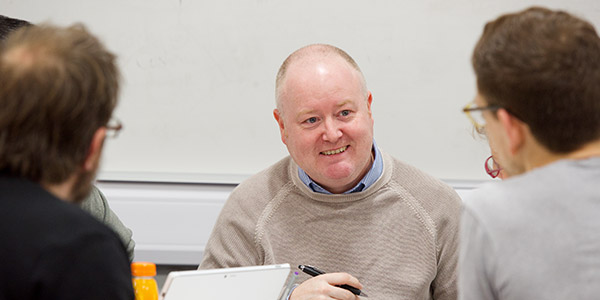 Find out why Chartered Institute of Logistics and Transport (CILT) accredited courses are sought...
Read the story
Have questions?
We'd love to hear from you. Get in touch to discuss your course of interest and ask any questions about studying.