You may be studying remotely, but you won't be studying alone. You'll be supported by us through every stage of your journey.
Virtual open day
Watch our virtual open day video with UCLan student support team and current MSc International Business and Management student, Melissa Pather.
Hear directly from a current student about career impacts, what it's like to study online with UClan, and how to fit the course around your life.
Daniel [00:00:00] Welcome to Ask UCLan. And welcome to our virtual open day. We're really, really excited to be hosting this again. And we're so glad that so many of you managed to show interest in our open day. We're really excited to be presenting what we're presenting to you today. Being student recruitment consultants, we like to provide that support right at the beginning. So when you first decided the course you want to do here with UCLan online, obviously there's a lot of questions unanswered. There's a lot of stuff regarding course content and the way you're going to be studying. We obviously like to provide that information right at the start. So you know, your next steps proceeding, whether it's towards an application, towards further enquiry, we like to give you that support. And again, obviously make sure the decision you are making is the right one. Next up, I really do want to introduce someone that has taken time out to join us today, and obviously, we really are grateful for that. So joining us today is Melissa, who is doing an MSc International Business and Management online course here at UCLan Online. So Melissa, if you maybe wanted to introduce yourself, tell us a little bit about your studies, that would be great.
Melissa [00:01:07] Hi, everyone. I'm Melissa, and I'm from Durban, South Africa. I'm 34 years old and I work for the South African government and the department is called Department of Agriculture and Rural Development, I'm a survey technician. I initially started my studies at university, a technical university. I have a National Diploma in Survey. Then after I continued with a Bachelor of Technology in surveying. So I work in the cadastral field, the different types of surveying, I'm in the engineering field of study. But I was placed in an office that deals with cadastral surveying. I've done a project management course online in South Africa and currently the position I am filling at the moment is a senior position. My next label will be a management position and I've decided to search into doing something that will help me fulfil a senior role within the department.
Daniel [00:02:19] That's fantastic. Melissa, thank you so much for that. And now we're just going to sort of ask Melissa some questions regarding her time here. What can students expect in terms of the support that they can get from the academics and how have you experienced that and what kind of support have you had from the academics?
Melissa [00:02:38] I haven't had any bad experiences generally, as Tom explained, we have your course content given out the Friday before the week. So we go through our content and we have activities that we answer. And if you give in your answer activity you get a response within the day, if you answered early in the morning or probably the next day. Very good feedback, I've spoken to Tom numerous times and the support is always academic and administration wise.
Daniel [00:03:14] So, was there anything about UCLan that really sort of stuck out for you? And obviously, why you chose to go with UCLan Online to pursue your studies? I would love to know a bit more about that.
Melissa [00:03:26] I think the structure of the course is very interesting, the way it was presented and it fitted my availability to putting studies into my personal life and my work life. Also financially, it was one of the more reasonable courses compared to other universities. And there was a definite goal from the start.
Elvira [00:03:52] And how do you think the course will help you in your career, I know that you were telling us what you're doing at the minute, but how do you think this is helping you so far?
Melissa [0:04:04] I'm currently busy with one module now, and I've completed financial management, and that was very interesting because generally you think that running a business is all about making a profit and during the course, maybe I understand business better and how you deal with contracts in foreign exchange, especially with international business. Because I work for a government department, we do interact with other countries and South Africa's part of the BRICS, which is Brazil, Russia, India, China and South Africa. So if I should move into senior positions, then we do deal with other countries. It's good to know how business operates and how do we trade with each other, all these kind of things.
[00:04:50] And I think the current model that I'm doing is sustainable management, and that was a real eye opener because in both courses so far I've learnt things that I would never have known if I hadn't done this course. Sustainable management, I've learnt that the fashion industry is something that affects each and every one of us. We wear clothes everyday, we buy shoes all the time. But textile industry is one of the major pollutants in the world, and it's something that really needs to be addressed globally. And I think it's really changed my way of living besides my studying and academic and professional career.
Daniel [00:05:32] You know, how is this course impacting yourself? You know, on a professional and also on a personal level as well.
Melissa [00:05:45] Oh, professional level, I think I have a better understanding regarding people in management and the aspects they have to deal with and the amount of work because generally you think that they would just have to overlook what we do and that was just it, so it was just simple stuff and the people [inaudible] are really productive and pushing and doing all the work and just heading us. But it was interesting to see the amount of work that goes into it and the knowledge you need to have to actually run a business, execute all corporations successfully. So I think have a better understanding with management and how things are done in the office. Personally, as I said, regarding things that are actually happening in the world, we're so blinded by just these advertisements and our thoughts of how things really are. But as you study and you start researching and reading articles and documentaries, it's a better understanding of what's really going on in the world out there. Then, well, studying this course I've met people from other countries, which is really interesting and we got chatting. So it was really nice. And management is the most difficult part, but I think the key aspect, should you do this course, since your course content is released the Friday before the actual week. I think the key aspect would be to go through the course content on the weekend because that's typically the best time to go over it. Even if it's not an in-depth thing, I think browse through and read your activities and read what you can and do your course reading later on in the week. So if you have an idea, it's something you might know or studied previously in undergrad or something you don't know. You know you need to designate more time to this and also by going through the course content. When you do have your webinar, it's easy for you to ask questions and engage with your peers and your tutor. So your time management is very important. But I think also if you go through your content on the weekend and you feel that it's something that you don't understand or you need to do more research on, you could download those aspects and you could read it when you're travelling to work or when you're just sitting down and having lunch or coffee.
[00:08:04] And I think the more time you have, the better it is for your studies and the less pressure you're under. I think you should actually look at the course content and ask yourself, what do you really want to get out of the course? What do you need? Career wise or personally the reasons behind why you're doing this course? Is it going to benefit you and the course modules that were offered to me, I have not personally done so, it was something that, if it was under international business management and something I'm interested in. So I said, you know what, no basic understanding, general understanding from textbooks or campus days.
[00:08:47] So going through this course, I think, was the key aspect is like learning from the start, from bottom up. And I think it's changed my whole perspective of how businesses operate, how we trade internationally. I do stock market trading, but it's just something basic. But when I you actually did the financial management course with you guys, it's a real eye opener and I understand how the markets work and how trading and other aspects affect the market.
[00:09:19] So it's not just personally, I mean, academically related or, well, professionally, it's also personally related. So I think people really need to do their research and look at the course content, read through everything and who needs overall personal and professional achievement by doing this course. It's very difficult when you're employed full time and your personal life, and your work life can really get in the way, and when you get home you're exhausted, the last thing you want to do is like look at content and try and figure out what's going on in here. But another idea that I would suggest to students, is, you would download your content and if you go to bed and you haven't done any studies, sometimes you would not fall asleep straight away. You could just browse on your smartphone, tablet or iPad, read over what's happening in your course for the week. Even if it's just a page, you have an idea and then something that interests, you'll probably go and research further. But, I think that's about it. I think you just need to push yourself and ask yourself, why did you actually register for this course, or take up this course? Was it going to benefit you? Because that's a key aspect. Why did you do this? Because no one forced you into this, it was your choice. I think when it's your choice, you know why you did it and you just keep reminding yourself and you'll be fine.
[00:10:51] That's my best practise. You should attend the webinars. It was a bit difficult at first because you don't know anyone. You don't know what to expect. You know, joining the webinar. But I think it's a great opportunity to engage and sometimes you might read and interpret things differently. But when you actually have the webinar, you get a clear aspect of what's actually expected of you, especially your assignments, like you would need to do a report or an essay. So, you would just write an essay normally, but how do you present it as an assignment? It was like, How do you do this? So you get to ask those kind of questions and they tell you, what do they expect from you. So it'll really help you in the course if you attend the webinars.
Daniel [00:11:40] Brilliant, actually, following on from that, Melissa. Lauren, who's in the chat, has actually just asked how many hours roughly are the live webinars and that kind of go on that you have sort of each week? She's asking sort of how they are in length.
Melissa [00:11:58] The general time is an hour, but we've never gone that long. So the tutor will present the content using their own PowerPoint presentations or the actual presentations that are on your weekly feed, depending on your tutor. So he or she will go through it and talk about certain aspects, the more important aspects so you could make notes or highlight stuff. They'll also maybe pop in a video, which they would share with you later on to go over to help you with your content for the week. So generally, it's like 20 minutes, 25 minutes, and they ask if there's questions, so you could ask questions probably about the activity that you had for the week or what you don't understand. And then you can just engage with your peers because it's left very informal. So it's very relaxed.
Daniel [00:12:56] Fantastic and obviously you've spoken about the importance of these live webinars and obviously one of your best practises is attending them. Some people asking in the chat, if you're not able to attend some of them, maybe due to sort of any other commitments. How can you sort of work around that?
Melissa [00:13:15] Well, actually, for the last course, I didn't attend last week because I was travelling at the time, but they are recorded so you can go back and watch them whenever you do have time. So you don't really lose out on much. It's just your personal questions, but if you can type in on canvas, there's an inbox and you just click on the inbox and you get to choose your module. So you're module actually tells you who are the people that are linked to that module, so you get your tutors name and then you get, I generally get Tom because he's the student advisor there. And if you know your peers, you could type in their name and probably just email, appear and chat to them about it.
Daniel [00:14:00] Fantastic. Thank you so much. Asking about the hours of study recommended per week in regards to these online courses. So maybe Elvira did you want to sort of take that one and maybe tell these guys a little bit more about how much time we sort of recommend?
Melissa [00:14:17] So what we recommend to all of our students is, obviously, this is a part time and you're going to be working, so we don't want you to sacrifice any time from your work and just [inaudible] of your responsibility. We do advise a 20 hours per week, minimum, so you can get the most out of it and you can be, still as Melissa was saying, you're getting your webinars, you're getting your resources, you're doing your assessments, task, etc..
Daniel [00:14:47] Absolutely. And of course, you know, these courses as well, just to follow on from that. And they are a mix of 20 and 40 and 160 credit module as well. And of course, the time that you will spend on each module may vary as well. The 20 credit modules, the talk content that you have is slightly shorter than the 40 credit modules, so the time committed each week will be less intense with the 20 credit modules, and it may go up with the 40 credit modules and obviously the module right at the end, which is over two terms, is your research project or dissertation module as well, which is 60 credits. You will have plenty, plenty of time to get that covered.
Melissa [00:15:28] Sorry can I just add to that?
Daniel [00:15:32] Yeah, of course, please do.
Melissa [00:15:34] Yeah, I think that was also my fear when I decided to do this course, of what's actually expected of me as a student in my assesments and that kind of stuff. I think people are scared that it's going to be like your undergrad. We would have a textbook and a whole lot of things to read and to think back in your assignments.
[00:15:59] But it's not that way with your postgrad, it actually tests your understanding so they will deliver a topic and then you would read that topic and they want you to understand it and apply it. So it's very practical, so you can relate it to your actual work if you're in business, trading internationally, all these kind of things. So you would relate it to your actual work environment and report back on that because I've done that in my weekly activities and it did help also explain in our webinars, other peers would talk about the experience and work and how this actual topic related to it. So I think people shouldn't fear that it's like a school undergrad thing where you have to remember things word for word and [inaudible] kind of things. It's just practically your basic understanding with research supporting what you have learnt.
Daniel [00:17:01] Yeah, absolutely. Thank you so much for that, Melissa. And again, kind of regarding the sort of, you know, how the core structure will be, someone else is put in the chat asking how the exam structure is like, just to let you guys know. Obviously, there's no exams with the online course, it is completely coursework based, so it's a mix between formative and summative assessments. So the end of each module you will have, there will be an assessment for you to carry out.
[00:17:29] That could be a mixture of a two part assessment. Whether it's an essay, a journal, stuff like that, it's all sort of scheduled out and you'll have time to work through that. And obviously, they go towards your final grades. So all the stuff that you do throughout your module is aimed towards how you doing your assessment and see that goes towards your final grade along with your dissertation. Required presentation, so maybe, Melissa, if you wanted to possibly take that one and maybe tell us a little bit more about your knowledge on that, there is any.
Melissa [00:18:04] We haven't had any group activities, because everything's individual, but they do encourage us to interact with our peers and the ideas is you also get to do that on the webinar. So your tutor would advise that you interact with others, but on the webinar we share our ideas and what we understand about our assignments or activities, so we have a clear idea of what's really expected of the course, or that particular activity. But your assessments are individual, it's all on your own.
Daniel [00:18:46] Thank you so much for that, Melissa. So again, yep, guys, we are still here, so please do keep the questions coming in. No question is a bad question. With times like this want to help you kind of clarify and solidifies as much as possible with these sort of things, please do keep the questions coming.
Melissa [00:19:03] We have one question about our newest masters. Is there [inaudible] and one of our students would like to know if there is any support for careers opportunity after they finish and if its CIPD?
Thomas [00:19:29] There is a careers team within UCLan, which you have full support from then. They do actually, and this is something that UCLan provide. Not only will you get support whilst you're studying, but also once you graduate, you can actually still contact them. Once you've graduated so. But speaking of opportunities with that, they can advise on obviously job prospects. CV building, obviously targeting relevant areas of employment. What you're interested in and they're all professional advisers and you can reach out to them as soon as you're enrolled, as a UCLan student. And they can help you basically create a pathway to your desired field of employment. So it's good that you raised it. It's such a useful service, actually, and I think that students should continue to reach out to them because even if you're not based in the UK, they can still provide guidance to where you are.
[00:20:37] Obviously, it might vary a little bit in different countries. They may have less opportunities there, but they can certainly still provide generic information to you, which would benefit you as I said with CV building or targeting in fields of employment, and advise what areas you want to strengthen.
Daniel [00:21:03] You've obviously attended far and wide I understand, maybe it's quite late or quite early in certain parts of the world, so thank you so much for your commitment and on behalf of myself and everyone else who joined. Thank you so much for attending. And we hope to hear from you again soon.
Your Course Adviser will be the first person you can expect to speak with. They'll be glad to help you with any questions you have prior to starting with us, from selecting a course to working on your application.
You can get in touch with them by emailing onlinestudy@uclan.ac.uk, phoning +44 (0)1772 925 931, or sending a WhatsApp message to +44 (0)7521 915 306
Our Student Adviser Team will help you with any of your non-academic questions during the course – or point you in the direct of the support services you need.
You can turn to your Student Advisers for advice on anything from managing your time to using Canvas, our online learning platform.
Our incredible academics are the reason we were rated Silver by the Teaching Excellence Framework. During your programme, your tutors' industry insights and subject knowledge will be an invaluable part of your growth as a professional.
Whether you've just begun your course or have advanced to the next phase of your journey post-graduation, you can turn to our Careers Team for lifelong help navigating your career. From practice interviews to CV checking, the team offers a fantastic range of services.
During your studies, you'll get to work alongside brilliant, like-minded students from across the world. They'll have the same passion for the subject as you do, and you'll be able to share your experiences and get to know each other through our forums, webinars, and groupwork.
Upon earning your degree, you'll be invited to join our on-campus ceremony to celebrate this accomplishment alongside your tutors and peers.
You can also look forward to becoming a member of our Alumni Network, which includes business support, lifelong access to the Library, and more.
We hold up to two subject-specific events each year. These events are optional and don't make up a part of your curriculum. However, they can be a great opportunity to learn more about your field and spend time with your classmates and tutors.
All event costs (like entry fees) are paid for by the University. You'll be expected to cover your own travel and accommodation for physical events.
If you're going through a difficult time with your mental health, please know that you can get in touch with our Counselling, Mental Health and Wellbeing Team. Speak to them confidentially about any of your current challenges and receive professional support and advice.
You can access the thousands of books, journals, and learning resources available digitally in the Library, which also has a dedicated team that provides research-related training for students, from how to format written assignments to making the most of the platform's features.
Discover more about studying online and the support you'll receive
Learn how to apply for our online master's courses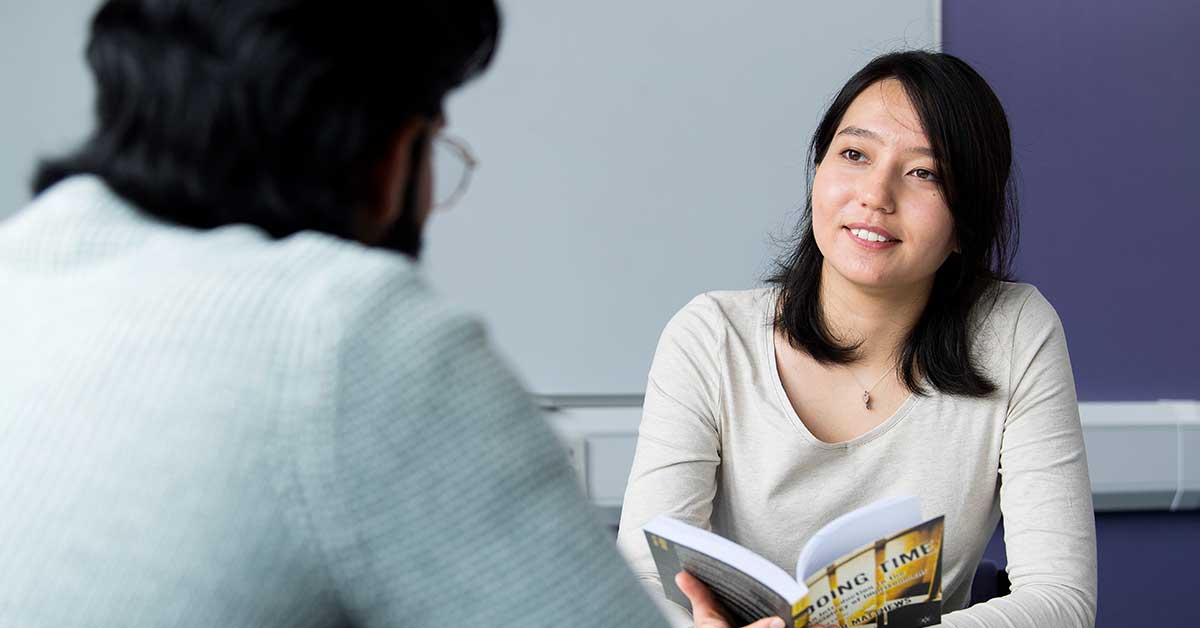 Find out about mental health support for online learners at UCLan.
Read more
Request a call back
We'll get in touch to discuss your course of interest and answer any questions.